Payment Options for Foreign Students
Western Union Money Transfer
Western Union Money Transfer sends Money in minutes. You can send Money in Person or with agent locations around every corner, sending money anywhere is fast and easy. Western Union has more than 500,000 agent locations worldwide when you want to send a money transfer in person using cash or a debit card.
Five Simple Steps to Send and Receive Money
1. The sender goes to the nearest Western Union agent location. He fills out a form, hands over the money and service fee to the agent.
2. The agent gives the sender a receipt and a Money Transfer Control Number (MTCN)
3. The sender calls the receiver and informs him about the amount of money sent.
4. The receiver goes to any Western Union location, provides identification and fills out a form mentioning the sender's name, country and the amount expected.
5. The agent hands over the money to the receiver (as per RBI guidelines)
Payment by Demand Draft / Money Order / Chashier's Check
TO BE DRAWN ON " SOFTPRO COMPUTER EDUCATION"
Please check the NEFT Details as given below
ACCOUNT NAME: SOFTPRO COMPUTER EDUCATION
BANK NAME: CORPORATION BANK
BRANCH NAME: SHIVAJI PARK
ACCOUNT NUMBER: 005700201002504
RTGS/NEFT IFSC CODE: CORP0000057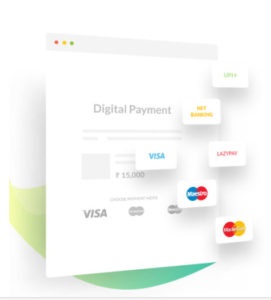 The PayU Wallet is a service that enables you to pay for products and services from your mobile phone, tablet or computer. You can pay through your Debit/Credit Cards , Netbanking. You can store your credit card details for safe and secure payments to your favourite stores without exposing your personal or financial details.
Register DMTI - Digital Marketing Course